The Band
Haines - There is lots of embarressing stories i could bring up here but lets start with the simple stuff
Name:Matthew Alan Haines
DOB:27th December 1986
Location:Wigston, Leicester
His hobbies are getting wasted, Kayaking and He used to play a bit of rugby.
There was this one time when matt decided to drink copious amounts of vodka down the park........Well lets just say that He barfed a few times in my room and Alot more times on the street. He decided that he needed a piss while sitting down on a bench next to the main road. And i'll say no more!

Whitmore - There are many things i could say here! Whitmore is so sex obsessed! I should know!
Name:Thomas Mark Whitmore
DOB:20th February 1986
Location:Wigston, Leicester
His hobbies are Running, Skateboarding and he enjoys a good drink of c-juice with friends!
Whitmore goes through girls like nothing! He has got ex-ex-ex birds from just a few months back!

John - Well i think i'm right in saying this is the most immature guy in the band!
Name:John Henry Jeff Fred Bill Geoff Jimmy DAVE Penis Drake
DOB:25th June 1987
Location:Glen Parva, Leicester
His hobbies are skateboarding and seeing his bird chelle
! Amazing skater!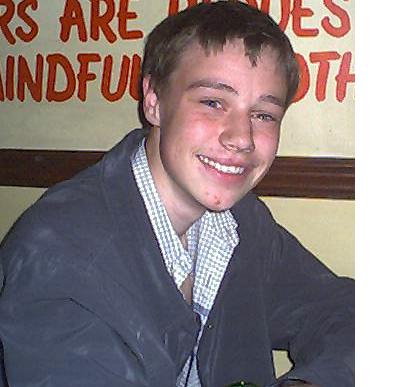 The Band Continued
Sean - What can i say....just that he's the sexiet member of the band and also the greatest
Name:Sean David Curtis
DOB:21'st July 1987
Location:Wigston, Leicester
His hobbies are skateboarding, BMX, Getting wasted, and meeting ladies!
Sean has done some pretty stupid things in his time, especially while drunk. I'm not going to mention any! Sean doesn't have a girlfriend and he's not looking. Although he is always willing to try out some drunken/fit/drunken and fit girls!
ROCK ON!!!